Many of you have asked, and I listened! Whereas previously only full album downloads were available, now you can purchase only the Listen & Learn songs you really want.  Of course, you still have the option to download the entire album, but your feedback has made it apparent that single song downloads are your preference.

I use Bandcamp (as seen in the screenshot above) to manage my downloads and handle transactions, and luckily for both me and you, they make it super simple to purchase both albums and single songs.  To view the  entire album and hear the rest of the songs on it, just click the album art for any song here at Listen & Learn.  Or, if you hear a song here and you want to purchase it, click "download" just below the player.  This window will appear: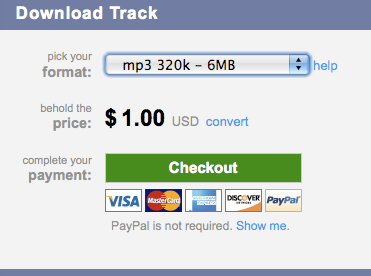 As you can see, you can use either a credit card or PayPal to purchase a song or album.  When you import your new music into iTunes, all of the info (song title, album, artist) will appear.  Pretty cool, right?  I'm a big fan of Bandcamp; I've even convinced several other music therapist friends to use it, too…not that it took much convincing :)
Oh, and I'm going to be re-recording some of my older tunes in the coming weeks!  Now that I have much higher quality recording equipment than when I first started, you can definitely tell the difference between the old and the new.  So that's the latest news around here – happy listening and downloading!