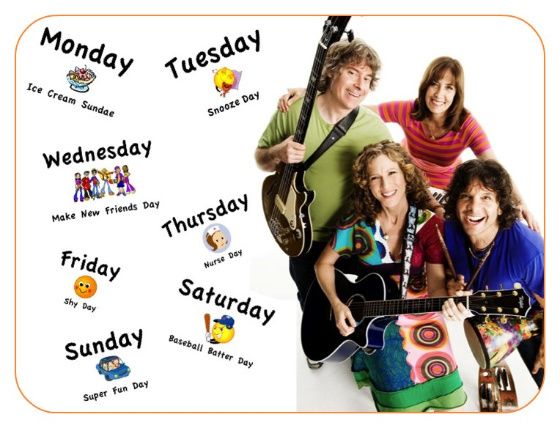 97% of the songs I use in my music therapy sessions and music classes are those I've written myself. But it's a pretty safe bet that the other 3% are borrowed from Laurie Berkner, who I'd have to say is my songwriting role model.
Some of my favorite Laurie Berkner Band songs include Buzz Buzz, Walk Along the River, The Story of My Feelings, and I Know a Chicken. But one song in particular that both my students and I are extremely fond of is I'm Gonna Catch You.
If you're not familiar with this particular tune, follow the link and listen to an audio sample.  It's upbeat, catchy, and best of all, it's about the days of the week.  Now I'll admit that this is a silly song, but I use it as an opportunity to sneak in a group calendar lesson.
I created a full-sized (8.5 x 11) picture for each day of the week, including the name of the day and a graphic + text for the description in the song.  If I'm working with a large group, I'll ask for volunteers to be in charge of each picture.  Then as we listen to and sing the song, each child holds up his or her picture as that day is mentioned.
If the students are just beginning to learn the days of the week, I'll have them sit in order so that they know when it's their turn. But as they become more familiar with the order of days, I'll arrange them randomly. For those who don't or can't yet read, the pictures serve as a visual cue.
My students really enjoy (and do very well with) this activity, so I thought I'd share those pictures with you today. Here they are in a nice, neat PDF download:
Download: "I'm Gonna Catch You" Visual Aide
Are you a Laurie Berkner superfan like me?  It's hard not to be; her songs are super singable, easy to play on the guitar, and can often be applied to my objectives as a music therapist.  Fill me in on your favorite tunes of hers!